Mattioli, Pietro Andrea, 1500-1577.
[Commentarii in libros sex Pedacii Dioscoridis ... de materia medica. French.]
Commentaires de M. Pierre André Matthiole, medecin senois, svr les six livres de Ped. Dioscoride, Anazarbeen, de la matiere medecinale, reueuz & augmentés en plus de mille lieux par l'autheur mesme, & enrichis pour la troisieme fois, d'vn grand nombre de pourtraits, de plantes, & animaux tirés au vif, plus qu'aux precedentes editions, auec certaines tables medecinales, tant des qualités & vertus des simples medicamens, que des remedes pour toutes maladies, qui peuuent auenir au corps humain, comme aussi des sentences, mots, & matieres traictees esdicts commentaires: dauantage y a sur la fin, diuers pourtraits de fourneaux & alembics, pour distiller & tirer les eaux de toutes plantes, auec le moyen de les conseruer en leurs naïues odeurs mis en françois sur la derniere edition latine de l'autheur, par M. Iean des Moulins ...
Lyon : G. Roville, 1572.
[136], 819, [22] p. : ill. ; 37 cm.
Page 653 "Narcisse"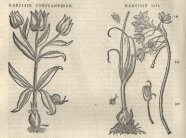 The Commentarii was first printed in Venice in 1544 and was followed by more than forty editions in several languages, this being a French edition from 1572. Following his father, he studied medicine and excelled in botanical studies. The commentaries are on a materia medica in Greek by Dioscorides of the 1st century A.D. and it also includes descriptions of all the plants known to Mattioli. The diplomat Ogier Ghiselin de Busbecq was instrumental in securing an early 6th century copy of the text Codex chigianus for the court in Vienna and also gave Mattioli manuscript copies of Dioscorides. Following the publication of the Commentarii, he was summoned to the court as physician to Archduke Ferdinand and then to Maxmillian II.
Cf. Hunt 59, 145
Woodcuts.
Dodoens, Rembert, 1517-1585.
A nievve herball, or, Historie of plantes : wherein is contayned the vvhole discourse and perfect description of all sortes of herbes and plantes, their diuers and sundry kindes, their straunge figures, fashions, and shapes : their names, natures, operations, and vertues, and that not onely of those whiche are here growyng in this our countrie of Englande, but of all others also of forrayne realmes, commonly used in physicke / first set foorth in the Doutche or Almaigne tongue, by that learned D. Rembert Dodoens, physition to the Emperour / and nowe first translated out of French into English, by Henry Lyte Esquyer.
At London : By me Gerard Dewes, dwelling in Pawles Churchyarde at the signe of the Swanne, 1578.
[24], 779, [25] p. : ill. ; 32 cm.
Page 221 "Orchis Serapias"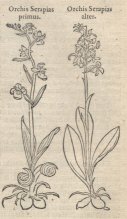 Rembert Dodoens was the first of a distinguished line of Belgian botanists. He was educated in medicine at various universities in Europe, eventually becoming a physician at the court of Emperor Maxmillian II, like Mattioli, and Maximillian's successor Rudolf II in Vienna. He published his Cruydeboeck (the title under which the herbal was originally published) in 1554 and in 1557 it was published in a French translation Histoire des plantes by his friend and fellow botanist Charles de L'Ecluse (Carolus Clusius.) This is the edition that Henry Lyte translated, but it was far more than a translation; a considerable amount of new material and corrections were added, some supplied by Dodoens himself. The Herball was printed in Antwerp by Hendrik van der Loe for the London bookseller Garrat D'Ewes.
Hunt 132
Woodcuts.
Woodcut - Relief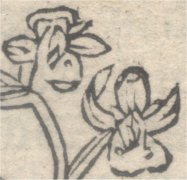 A woodcut is made on the plank side (with the grain) of a piece of wood. An image is drawn on the surface and all the wood not part of the image cut away with a sharp knife in the areas near the drawn lines and with a gouge where such delicacy was not required. When inked, only the raised level surface of the image receives the ink. This type of printing is termed relief, just as the printing from type is relief. The great benefit of woodcuts is that the block can be adjusted to be the same height as the type and can therefore be put into the press with the set type and both can be printed at the same time.
Gerard, John, 1545-1612.
The herball, or, Generall historie of plantes / gathered by John Gerarde of London, master in chirurgerie.
Imprinted at London : By Iohn Norton, 1597.
[20], 1392, [72] p. : ill. ; 34 cm.
Page 781 "Potatoes of Virginia"
Page 1391 "The breede of Barnakles"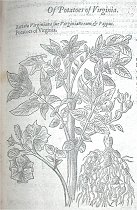 John Gerard was a member of the Barber-Surgeons' Company, but his true interest lay in botany. He published a catalogue of his garden in 1596, the first complete catalogue ever done. The appearance of the Herball was controversial. The publisher John Norton had originally commissioned Dr. Robert Priest, a member of the College of Physicians, to translate Rembert Dodoens' Stirpium historiae pemptades sex, first printed in 1583. Priest died before he finished the translation and the manuscript was acquired by Gerard, who finished it. He rearranged the order of the plants from the method of Dodoens to that of Matthias de L'Obel, who was asked by the publisher to correct errors, of which there were many. The book is not a straight plagiary, for it is filled with Gerard's own observations. The woodcuts were acquired by the English publisher John Norton from the German publisher of the Neuw Kreuterbuch by Iacobus Theodorus (Tabernaemontaus), printed in 1588-1591. There are sixteen original woodcuts, including the first illustration of the potato. There are some recountings of folklore in the text. For example, the Barnacle-Goose tree is described and Gerard makes the unfortunate claim to have seen it. The Herball was reprinted in 1636, much expanded and corrected by Thomas Johnson.
Hunt 175
Woodcuts.
Parkinson, John, 1567-1650.
Theatrum botanicum : The theater of plants, or An herball of a large extent : containing therein a more ample and exact history and declaration of the physicall herbs and plants that are in other authours, encreased by the accesse of many hundreds of new, rare, and strange plants from all the parts of the world ... : shewing vvithall the many errors, differences, and oversights of sundry authors that have formerly written of them ... : distributed into sundry classes or tribes, for the more easie knowledge of the many herbes of one nature and property, with the chiefe notes of Dr. Lobel, Dr. Bonham, and others inserted therein / collected by the many yeares travaile, industry, and experience in this subject, by John Parkinson ...
London : Printed by Tho. Cotes, 1640.
[20], 1755 [i.e. 1745], [3] p. : ill. ; 37 cm.
Page 355 "Capsicum longum"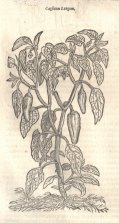 John Parkinson was appointed Herbarist to Charles I and was noted for the garden he cultivated in London. The first book he published, Paradisi in sole paradisus terrestris in 1629 was on gardening. (A later edition is included in the exhibit.) In the title, he refers to Matthias de L'Obel and Johann Bauhin, both noted botanists. Last in a line of herbalists before the beginnings of the scientific study of plants, Parkinson divided his subject into seventeen classes or tribes. The pepper is in the third tribe, "venomous, sleepy, and hurtful plants."
"... the fierce vapours that arise from the huskes or cods, while one doth but open them ... will so pierce the senses by flying up into the head by the nostrills, that it will procure aboundance of neesings, and draw downe such an aboundance of thin rheume, that it is to be admired, forcing tears very plentifully ..."
Hunt 235
Woodcuts.