A botanical ladder for the young.
London : Religious Tract Society, [185-?]
176 p. : ill. ; 15 cm.
Page 33 "Saffron crocus"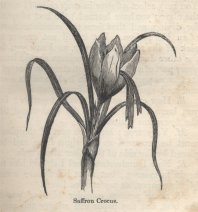 This volume uses a common technique of a conversation for teaching purposes. In this case, it is between Emma and her mother. These are not simple books and the instruction is quite detailed. One may feel like Emma after her mother Lists twelve Linnaean orders, like Monogynia, Heptagynia, and Polygynia. "Oh, mamma, do not tell me any more hard names."
Wood-engravings.
Wood-engraving - Relief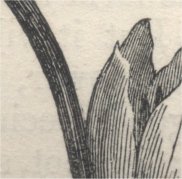 Unlike a woodcut, the wood-engraving is made on the end grain, or butt, of a piece of wood instead of with the grain. The end grain is much harder and stable, allowing a much finer line and greater detail to be achieved. Wood-engraving using similar tools to those employed in metal engraving and the process is similar. The difference is that in a metal cut, the ink is printed from the recess; with wood, the ink is printed from the surface left behind. Like a woodcut, the blocks were type high and could be printed with the letterpress type.
Cheney, Emma L. (Lewis)
Leaves / Emma L. Cheney.
[United States?] : The Author, [1861?]
ca. 110 leaves : ill. ; 20 cm.
On binding cover: Emma L. Cheney. Date of album from first leaf in book with
/ signature: "Emma L. Cheney October 1861."
Page [8] "Feverfew"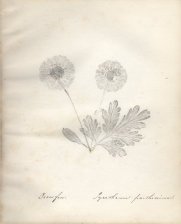 This is a private album of ca. 110 botanical illustrations of leaves that may have been produced by preparing actual plant specimens, pressing them on a lithographic stone and then printed off the stone, along with some evidence of hand drawing. Illustrations are gray toned and identified in manuscript ink inscriptions with botanical names. Some locales where plants were found identified as: Windsor Woods, Sunset Hill, Cowper's Hill, Willis' Falls, Birch Mountain and "Old Homestead". Possibly a collection of native American leaves and some from England. Includes leaves of various heaths, common medicinal plants, flowers, water lilies, and trees such as the Mulberry, American Elm, Mountain Oak, and ferns.
Nature print.
Nature Print

Nature prints could be produced by intaglio or planographic techniques. They both involve the transfer of a thin natural object, such as a leaf, to a surface for printing. Early nature prints were made by lightly oiling the object, then blackening it with soot from a smoking lamp, and then pressing it onto paper. For a lithographic print, the object is soaked in a greasy mixture, then laid on a lithographic stone to transfer the image. In intaglio, the object would be put between two plates, one of steel and the other of lead, and then subjected to great pressure, leaving behind an impression of the object. The lead sheet could then be electroplated with copper.
Lankester, Phebe, 1825-1900.
Talks about plants, or, Early lessons in botany / by Mrs. Lankester ; with six coloured plates and twenty-six wood engravings.
London (West Corner of St. Paul's Churchyard) : Griffith and Farran, 1879.
252, 4, 32 p., [6] leaves of plates : ill. ; 19 cm.
Frontispiece.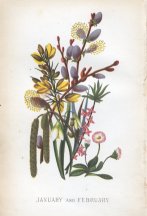 Phebe Lankester wrote several popular books on botany, particularly on wild flowers and ferns. This title was written specifically for children.
The colored plates are chromolithographs.
Ewing, Juliana Horatia Gatty, 1841-1885.
Mary's meadow / by Juliana Horatia Ewing.
London : Society for Promoting Christian Knowledge, [1886]
96 p. : ill. ; 22 cm.
Front cover.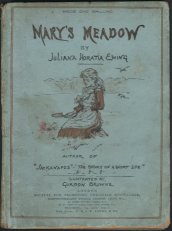 Juliana Ewing was a prolific writer of children's books. This story is based upon children reading Parkinson's Paradisi in sole paradisus terrestris and then creating their own garden.
"I got out the Book of Paradise too, and propped it up in an armchair, and sat on a footstool in front of it, so that I could read in between whiles of making the bonnet. There is an index, so that you can look out the flowers you want to read about."
Color-printed wood-engravings.
Color-printed Wood-engraving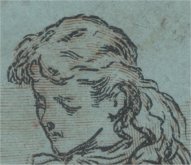 Properly called chromoxylographs, the technique is color printing from wood as chromolithographs are color printing from stone. As many wood engravings would be prepared as there were colors to be printed.