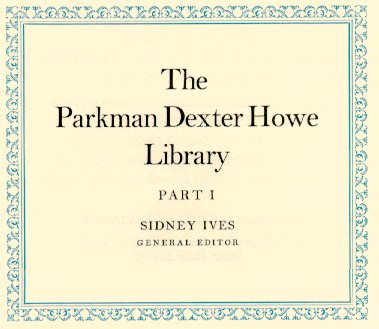 An important part of the arrangements made during the fall of 1980 for the acquisition of the Parkman Dexter Howe Library of New England authors was the commitment to produce a printed catalogue. From 1983 to its completion in 1994, the catalogue grew to ten parts with descriptions of the works of 22 authors and a section on early New England by nearly as many editors.
Printed in a limited edition by the Stinehour Press and the Meriden Gravure Company.
The Howe Library catalogs also are available online as part of the University of Florida Digital Collections.
Early New England
Henry David Thoreau
Ralph Waldo Emerson
Henry Wadsworth Longfellow
Richard Henry Dana, Jr.
Sarah Orne Jewett
William Cullen Bryant
Emily Dickinson
Edwin Arlington Robinson
John Greenleaf Whittier
Nathaniel Hawthorne
Herman Melville
Thomas Bailey Aldrich
Louise Imogen Guiney
Robert Frost
James Russell Lowell
Amy Lowell
Oliver Wendell Holmes
Henry Adams
Amos Bronson Alcott
Louisa May Alcott
Harriet Prescott Spofford
Harriet Beecher Stowe
Return to Publications